Learn the Songs You Adore with Online Lessons.
Online lessons start by learning to sing and play your favorite music.  Everything you want to learn will be put in a private online folder with PDF's, recordings, and video. Your homework never gets lost, you always know what you're working on, and what you need to do!
"

I was blown away how at how Tai helped me take that unused guitar and play a song on it so fast! Online lessons were the only way I could have excelled so fast! "
— Killian Mancera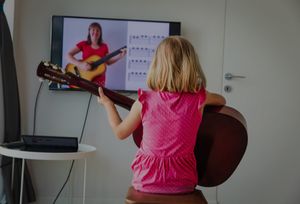 Hands-on Learning  
Tai Shan is an Award-winning educator known for her supportive approach. She has been featured in Billboard Magazine, American Songwriter, Americana UK, and NPR. 
Her students have won Songwriter of the Year (IMTA), and Best Song of the Year for the John Lennon Songwriting Contest and attended Berklee College of Music and Oberlin Conservatory of Music
 FAQs:
Try a Lesson, Worry-Free. 
Your first 30 min lesson is free. So you can decide risk-free if Tai is a fit for you!
What Do I Need to Begin Lessons? 
All you need is a computer. After booking, you will be sent a link that connects you with your teacher at the scheduled time with two clicks.
How Expensive are the Lessons? 
Lessons are $50/half hour or $60/45 min $70/hour. View more details here.
Are Online Lessons as Good as In-Person Lessons? 
Although there are some differences, multiple studies on distance learning, including this study from UNC, have shown that students are 36% more focused and perform 22% better when compared to in-person lessons.
Who Do I Teach?   
I specialize in teaching women ages 6+. My forte is to teach you to sing and accompany yourself on your instrument.  
What Will My First Guitar Lesson Contain?  
During our first lesson, I will ask you about your goals. Do you want to lead the next campfire singalong, or learn how to tour? All of this is possible with a specialized approach to lessons.  
Is Meeting Online Hard?  
I use Zoom to teach. I will help you every step of the way to make sure you are set up and ready for your lesson.
How Do I pay for Lessons?  
Paypal/Venmo

 
"

I'm so grateful for everything Tai taught me that helped turn this dream into a reality."